Hi world! I am back. While you may have thought I was being a slacker...yet again...I was not...really, I wasn't!
The Hubs and I were attacked by the devil awful horrible stomach bug/virus thing.
Yes, today is the first day we have been out of my house amongst the living since Saturday night. It came out of no where around 4am Sunday morning and it came pissed off. Being that sick at the same time as your hubby brings intimacy to a whoooooole 'nother lever....It was the worst I have ever felt in my life...seriously wouldn't wish that sheit on anyone!
So that brings me to my first love...
I love that I am amongst the living today,
with make-up on and everything! I may not be top notch just yet...but I am a step in that direction...
I am loving that Turkey Day is next week! Which means slow 3-day work week with lots of food at the office and then family and friends on Turkey Day....and then....
Christmas Decorating on Friday!!! Woo Hoo!!!
I am also loving something that is happening tomorrow...more on that later... :)
I am loving this fun little game that I have been missing while I have been out...I think I will have to join in next week...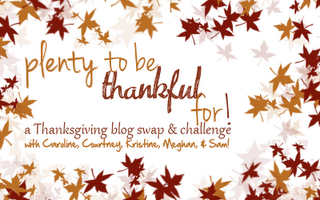 I am loving this new nail color I found at Walgreens last week...
Angora Cardi, it is a fabulous purple/mauvey kinda color...a little darker than this pic...perfect for Fall!
And of course I am loving you, Hubby!
Thanks for taking care of me this week even when you could barely stand! :) I love you so much!!
Happy Wednesday!