Today's Top Tuesday topic is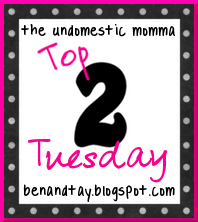 I love magazines, love. I have 2 specifically that I adore and read all the time. One, I actually have a subscription to and the other I had to stop myself from renewing my subscribition.... :)
First, Southern Living
If you are a lady living in the south, this is like your bible. It has everything you need to know to make your house a good ole southern home. I have to say, back in college I didn't get the luster....but about 3 years ago, I got it.....I guess that means I am getting old growing up. :) But seriously, the recipes alone would be enough to keep me coming back for more - then you add in the gardening tips (I need all the help I can get in that department!), the home decorating, the pics of those dream homes that only seem to exist on those lovely little pages, I swoon when this puppy arrives in my mailbox every month! I actually have the past year and a half worth of them hidden under my couch, my hubs continues to try and throw them away and I continue to tell him he will be very happy one day that I have kept them after I make a fabulous meal from the recipes! Speaking of, I have got to find a better way to store/organize those........
Second, US Weekly
Oh, how I love and adore my guilty pleasure! I am feeding into the awful thing that is paparazzi, but I can't help myself! I have to know the dirty hidden secrets all the bachelorettes are keeping, who Jennifer Anniston is dating today, how Kendra lost her baby weight, what the Brangelina Clan is up to these days, who broke up, who cheated on who, all the celebrity wedding albums (since my invitation got lost in the mail), my new favorite - "25 Facts About Me", and of course the life-altering question, "Who wore it best?"!
I received this lovely piece of journalism in the mail once a week last year (sigh), and I stopped myself from renewing it as I couldn't keep up! The hubs made fun of the massive stack of US Weeklies piled up on our coffee table on a daily bases. He likes to pretend that he doesn't read them....but I catch him looking over my shoulder and asking who, what, when, where as I am reading......he has even borrowed one for a read on a plane, mmmhmmm. No one can say no to the power that is celebrity gossip!!!
So, those are my fave reads! Head over to Taylor's and share yours!