Yes, it is that time again! Time for Thoughtless Thursday!!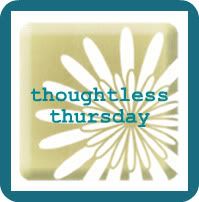 Katie, over at
Life in the

Fulmer

Lane
(who hosts this fun little game), blogged about her

SIL

, or as she likes to call her,

SILLY's

bachelorette

party. I have some friends coming in town for a

bachelorette

party this weekend and I have never posted about my own......so I decided to play along with the trend and share some pics from mine!
My fabulous, amazing, delightful, fun, crazy, awesome, loving, caring friends hosted my

bachelorette

party in the lovely city that is New Orleans!! Growing up in Mississippi I was able to make

roadtrips

there quite often & with one of my

BFF's

parents have a condo we took full advantage!! Being all the way up here in

Nashvegas

I can't take so many

roadtrips

, but thanks to my dear friends at Southwest I can now hop on a plane and an hour and half later I am in the Big Easy!! And I LOVE IT!!!! Really, I absolutely heart New

Oreans

!!
We went down there over Labor Day weekend last year. Shortly after we booked it all we found out that weekend was also Decadence Festival....which is a Gay Pride Festival....needless to say that made for a fun and interesting

Bachelorette

Par-

tay

!! :)
There is a really funny story behind this pick....key word being behind. Check out the couple to the left of me, they were the strangest couple and made-out like that pretty much on the table the entire time we were at dinner! It was actually pretty entertaining to all of us, so we had to get a pic.....our faces completely describe it! :)
In our VIP section.....but they

ke

pt telling us we weren't suppose to be in....don't they know who we are?! :)
My Katie P!
My lovely

MOH

hosting the "He Said, She Said" game, so fun!
Opening presents!!! The girls did good! :)
My spread again, with more lovely favors...notice the lovely cake...
This is what happens when you are a

bachelorette

......please forgive me.... :)
And of course my lovely B-Ray had to come!
Dinner at
The Bourbon House
,

soooooo

good!